WHY CHOOSE POTENSI
——————
NO NEED TO WORRY ABOUT ANYTHING IF YOU WORK TOGETHER WITH POTENSI ELEVATOR
1. POTENSI elevator has more than 17 years of experience in the elevator industry. And all top managements are from the world's top-level elevator companies.
2. All POTENSI FUJI elevators are manufactured as international standard EN81 & EN115 & EAC. And all products are able to be accepted by inspection of the third party organization.
3. POTENSI is able to supply all the spare parts to an elevator company or elevator parts distributor or elevator maintenance company.
4. POTENSI has a professional and multi-language sales team to assure that the clients can get the best service of Pre-sales consulting and After-sales service.
5. POTENSI supplies at least 2 years of warranty time for our elevators and escalators. If any problems come, we will send the parts to help you solve the problem immediately.

THE PROCESS TO BUY ELEVATORS
Please send your inquiry details to our sales team. ( If you don't know which specifications are must be supplied, you can CLICK HERE to get detailed instructions.)

POTENSI sales team will give you the quotation with the elevator main spare parts configuration.

POTENSI technician team will issue the elevator drawing or escalator drawing for your projects.

You check and confirm POTENSI's quotation and drawing, and we negotiate the price term, payment term and delivery term. In order to save your delivery charges, we gave professional suggestions that how many lifts can be packed in 1*20container or 1*40container. For more shipping solution details you can CLICK HERE to reduce the delivery cost.

Clients confirm the order and Potens commercial team will send PI (Proforma Invoice).

POTENSI Fuji factory arranges and starts production.

Before shipping the lifts & escalators, the Potensi qualification team will make the pre-delivery inspection for main spare parts.

Potensi packing team will contact forwarder to ship the goods by sea/train/air/courier.

After shipping, Potensi documents team will supply you the related shipping documents (eg. Invoice, packing list, CO, Form-E, B/L, Qualification test ports for main parts...) for the client's Customs Clearance.

Clients got the lifts or escalators in hand, Potensi installation team will give you guidance for the installation or commission work.

You will enjoy the beautiful life with POTENSI lifts or escalators and share your feelings to POTENSI.
POTENSI ELEVATOR BUYER'S GUIDE
——————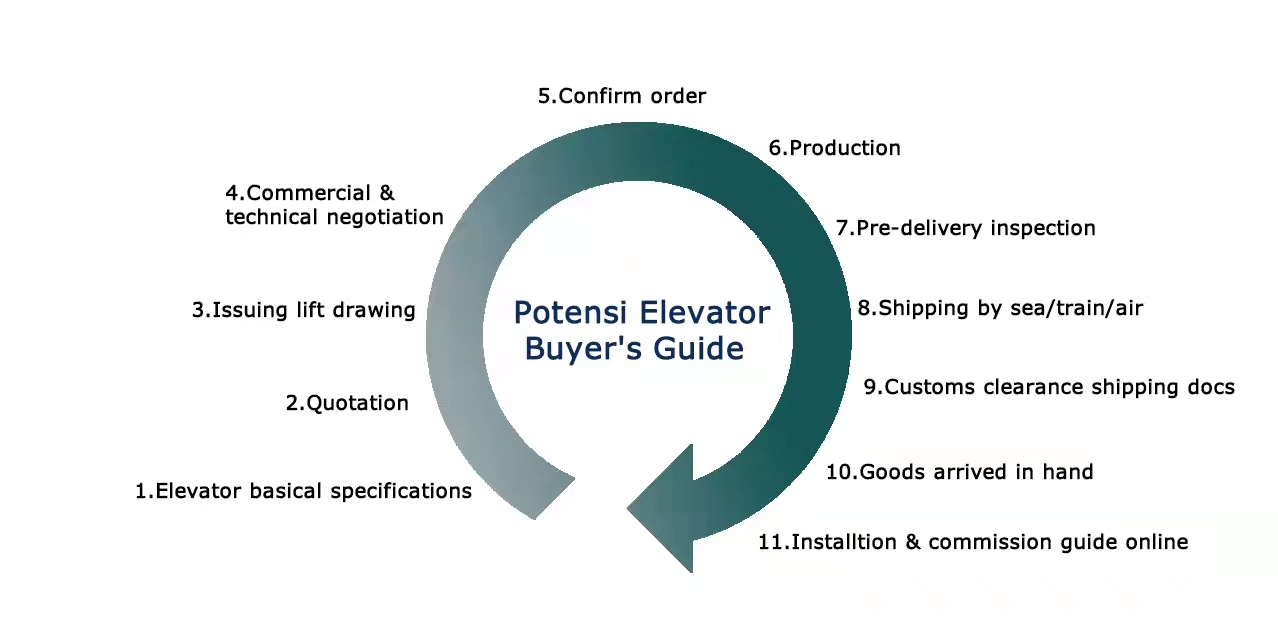 THE PROCESS TO BUY ELEVATOR SPARE PARTS
Please send us parts pictures and parts model and order quantity.

Potensi sales team offer you the price.

Clients check and confirm the order.

Potensi commercial team send the PI (Proforma Invoice)

Potensi stock team arrange and package the goods

Potensi qualification team makes the pre-delivery inspection before shipping.

Potensi packing team sends the goods to clients by sea/train/air/courier...

Potensi documents team supplies related shipping documents for Customs' Clearance.

Potensi after-sales team supplies their user guide.

Clients install and run spare parts and give Potensi feedback.
POTENSI ELEVATOR PARTS BUYER'S GUIDE
——————