POTENSI FUJI ELEVATOR PARTICIPATED IN INDONESIA ELEVATOR & ESCALATOR EXPO
More than 200 professional enterprises from 14 countries participated in the 3rd Indonesia Lift & Escalator Expo 2018 with the 2nd Indonesia Smart Building Smart City Expo Week 2018, 11-13 July in Jakarta, Indonesia. Potensi Elevator, as a Chinese elevator industry brand which has been deeply cultivated in Indonesia for many years, appeared in this exhibition magnificently.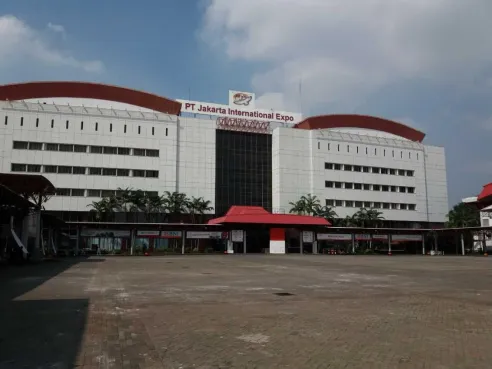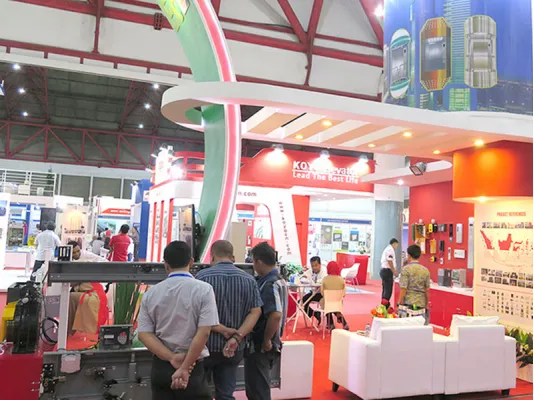 Practice "One Belt And One Road" to expand the layout of southeast Asia
As the initiator of the 21st Century Maritime Silk Road, Indonesia has unique advantages. Since the Belt and Road Cooperation Initiative was proposed by China in 2013, China and Indonesia have maintained a high degree of strategic cooperation. Indonesia's rapid development of infrastructure has brought huge market space for the elevator industry. POTENSI international undoubtedly become a loyal follower of the Belt and Road Initiative.

Who is Potensi International?
POTENSI is a comprehensive international elevator company, its aim is to provide a premium platform for China's high-quality elevator products to enter the international market. Meantime, it will provide an excellent platform for the China-entrance of unique elevator products in your market, and serve to create a global advantage!

POTENSI believes that superior service guarantees outstanding product performance. In order to satisfy the requirements from different areas, users and levels, we worked together with the world-class elevator company and supplied their original spare parts to our customers, especially Otis, Schindler, Kone, Thyssenkrupp, Mitsubishi, Fujitec, Hitachi, Toshiba, Hyundai etc.

POTENSI is the close strategic partner of FUJI elevator, and all of our elevators and escalators are manufactured as the newest EN81 & EN115 & EAC standards. In order to assure much more people easily enjoy premium POTENSI elevator products at the lowest price, we will also supply OEM production for the powerful partners in your local market.

What did Potensi Fuji do in the Indonesian market?
Following the national strategy, Potensie Fuji elevator has been growing in the Indonesian market for many years, successively establishing overseas service centers in Sumatra, Kalimantan, Sulawesi, Bali, Java, and other places in Indonesia. POTENSI has successfully built many outstanding engineering projects, which have been highly recognized by the Indonesian market.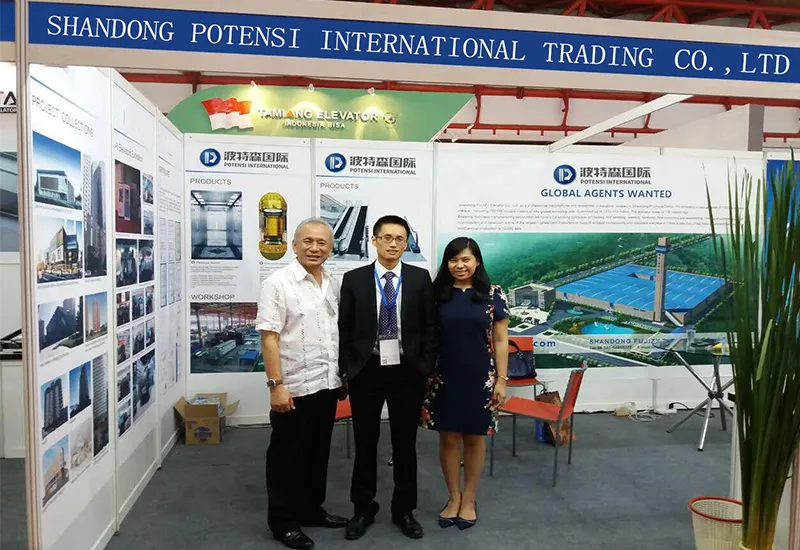 Stephen with our clients in the Expo
Not only full elevator but also elevator spare parts & escalator parts.
POTENSI believes that superior service guarantees outstanding product performance. In order to satisfy the requirements from different areas, users and levels, we worked together with the world's top-class elevator company and supplied their original spare parts to our customers, especially Otis, Schindler, Kone, Thyssenkrupp, Mitsubishi, Fujitec, Hitachi, Toshiba, Hyundai etc.

What POTENSI will do in the near future?
To be "Brands Outlets in Elevator Industry" is our goal. POTENSI will try its best to help its customers to reduce their purchase cost of elevator products. Up to now, nearly 30% of elevator parts in the Indonesian market are from POTENSI's supply chain, so now POTENSI will try to supply these spare parts to customers directly by its own supply chain by cutting all middle Chinese trading companies.

Potensi is searching for local power partners in the Indonesian market.
In the future,

Potensi International

will be more accurate in overseas market development, to provide the world with safer and faster elevator service, to create an international elevator brand! So we hope you can join us and let's make a bright future in the elevator industry. Of course, you will get the greatest support from the Potensi supply chain, including elevator product diversity, competitive price, professional technical solution, and humanized after-sales service
---
RELATED NEWS:
 
RELATED PRODUCTS:
RELATED VIDEOS:

RELATED TAGS:

Passenger lift, Car lift, Home lift, Freight lift, Observation Elevator, Hospital bed lift, Escalators, Moving Walk  
Brand Elevator Parts, Escalator Parts, Elevator Parts