SHANDONG POTENSI INTERNATIONAL ATTENDED THE BANGLADESH INTERNATIONAL ELEVATOR EXHIBITION
Global Lift & Escalator Expo GLE Dhaka 2018
was held in Dhaka in 2018. SHANDONG POTENSI INTERNATIONAL ELEVATOR was featured in the Fifth Bangladesh International Elevator Fair, and more than 200 elevator companies come together.
This is the second Bangladesh International Elevator Exhibition after 2017, and it is the most influential international professional elevator exhibition in Bangladesh. The exhibition provides Shandong POTENSI INTERNATIONAL an opportunity for product display, experience exchange, trade negotiation, and market development. Meantime, it also provides convenience for foreign elevator companies to understand the Bangladesh market and Bangladesh's local elevator companies to expand overseas business.
Bangladesh is a promising new market. Shandong POTENSI INTERNATIONAL Elevator Company focus on the high speed development of Bangladesh elevator industry. In recent years, Bangladesh has witnessed rapid economic growth, with an average annual economic growth rate of more than 6%.   In recent years, the total demand for elevators in Bangladesh has exceeded 20,000 units. Shandong Potensi International Trading Co exported elevators approximately 200unites per year.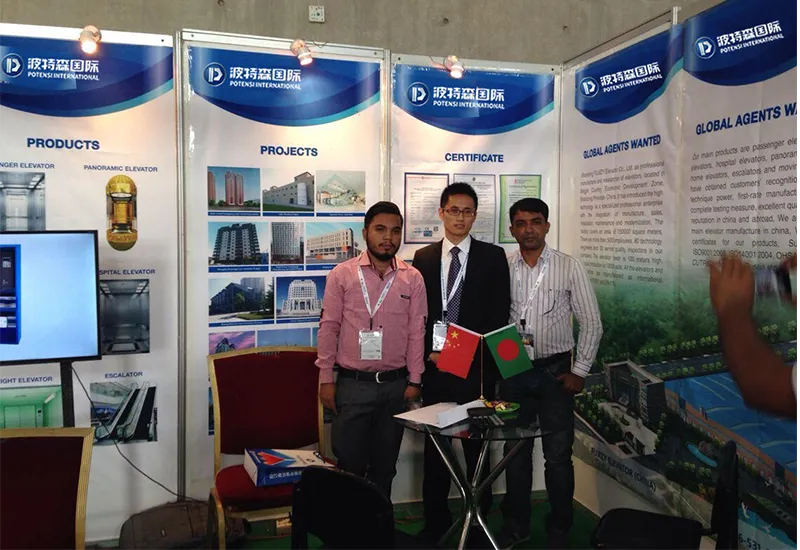 Who is the POTENSI INTERNATIONAL company ?
POTENSI is a comprehensive international elevator company, products are mainly including passenger lift, capsule lift, home lift, cargo lift, hospital lift...POTENSI INTERNATIONAL is plan to become the "Bands Outlets of Elevator industry", so Potensi elevator did a closely strategy cooperation with FUJI elevator company, and supply the FUJI elevator with latest Europen standard (EN81 & EN115) to Bangladesh agents and customers.
Not only full elevator but also elevator spare parts & escalator parts.
POTENSI not only care our own FUJI lift, but also we care so much for other brands elevators. In order to satisfy the requirements from different areas, users and levels, POTENSI INTERNATIONAL worked together with the world top class elevator company and supplied their original spare parts to our customers.

Especially :
OTIS, 
KONE, 
Schindler, 
Mitsubishi, 
Thyssenkrupp, 
Hitachi, 
Hyundai, 
Toshiba, 
LG & Sigma, 
Fuji & Fujitec, 
Monarch, 
Step, 
Bluelight, 
Wittur
etc
.
POTENSI believes that the superior service guarantees the outstanding product performance.
Potensi excellent performance in Bangladesh market.
P
otensi elevator not only focus on FUJI elevators, but also we focus on the good performance of other elevator companies, so we also try to supply our own spare parts to other elevator assemble elevator companies. POTENSI is confident that Potensi Internationl will bring you an excellent feels when up and down in the lifts.
---